Atlassian Confluence Cloud
Make attachment editing in
Confluence Cloud

a one-click task!

 GoEdit lets you open and edit every attachment in your Wiki directly with your desktop application.

Limitations of Cloud-Version
Please note that due to limitations in Atlassians Cloud API some features are not available in the Cloud-Version of GoEdit. Especially the direct edit link popup is not available as well as the user who locks an attachment cannot be displayed.
GoEdit for Confluence Cloud
Wiki Integration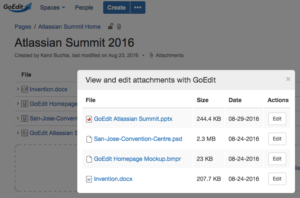 Whenever a file is attached to a Wiki page, editing of that file is only a one click action in every attachment list.
Always at your service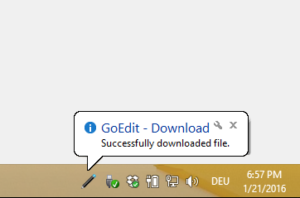 GoEdit simplifies your workflow and serves you when you need it. Get status updates and access your file history via the tray icon.
Direct Editing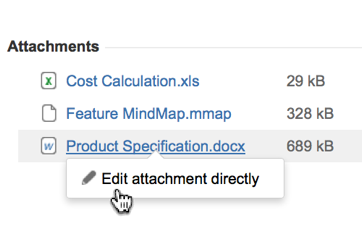 Editing of attachments works like a charm. Hover your mouse over any attachment and you'll instantly be able to start your edit process with one simple click.
Instant Editing
One-click editing of all your attachments – GoEdit starts your application in less than a second.
Works everywhere
Works with every browser, with every application & on every system (Windows, OS X, Linux).
Attachments Lock
The free built-in checkout feature protects your attachments against concurrent editing. Optionally GoEdit integrates with Cenote Lockpoint, if already exist.
Work 5x Faster!
Work up to 5x faster – with GoEdit attachments become a first-class citizen in your Confluence!
Revision Control
You can always recover your older versions of your attachments.
Office Integration
GoEdit works like a charm with Microsoft Office (Word, Excel, PowerPoint, Visio), LibreOffice & OpenOffice.
Easy To Install
Quick installation without admin rights – start working in seconds.
Zero-Configuration
On the fly setup by one click – GoEdit simply works!
Improve your company with GoEdit!

Finally replace your legacy file server
Find and edit your files with GoEdit similar to your file servers. Keep track of even a high variety of files with the straighforward search function. Get rid of old and chaotic structures from your server with GoEdit!
Get all your professional Veterans on board!
Expert veterans often are very skilled with their common programs. A shift to a new system like Jira seems very often nonessential for them. With GoEdit your users will be able to use all Office-programms from Microsoft, LibreOffice and OpenOffice to work with in your Jira like they are used to.


Fast Updating
Easy updating of documents, excel sheets and presentations with one click. With GoEdit, you can change small passages or whole paragraphs right immediately in your Jira.
Ongoing recording
It doesn't matter if there is a workplan, document or just a new thought for your mindmap, you can easily add it into your files with GoEdit in no time. You or your colleagues have a spontaneous idea for a presentation or want to update a task? With GoEdit you can use the same data easily and directly in your Jira.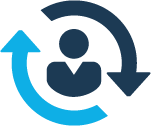 Many ways to edit
Edit all your data where and how you want with GoEdit. No matter if it is a file in your attachements or if it is directly inserted in your Jira.
Always up to date
With GoEdit you'll never have doubts, if you're using the updated version. With the direct and fast editing in your Jira, you'll always find the actual version online. No more complex data hierarchies or chaos with different versions!

Approved by Anti-Virus & Security Programs

GoEdit has established a high reputation in Windows safety technology "SmartScreen Application Reputation" and can be safely downloaded and installed in Windows environments.

GoEdit has been approved by Symantec and complies with Symantec Bloodhound technology and Symantec Endpoint Protection (SEP).

GoEdit has been reviewed by McAffee and complies with Intel Security's PUP detection policy.
Atlassian Confluence Cloud specific FAQ
Which attachment integrations in Confluence does GoEdit support?
GoEdit supports the following attachment integrations:
Regular attachment link within contents (Confluence Attachment Links)
Confluence attachment table
Direct documentview (Word/Excel) within a Confluence document
Single document previews of Word/Excel/Powerpoint contents
Embedded attachment-table-macros (attachment lists) (Confluence 5.1+ only)
Space Attachments list (Space tools) (Confluence 5.7+ only)
Thumbnail-file macro (Confluence 5.7+ only)
Limitations of Cloud-Version
Due to limitations in Atlassians Cloud API some features are not available in the Cloud-Version of GoEdit, which are available in Server-Version.
Direct Edit Link
Due to the limited API of Atlassian for Cloud, a direct edit link which appears by hovering over an attachment is not possible. Instead attachments are only editable via the separate attachment dialog.
Username of locked user is not shown
Atlassians Cloud privacy changes in May 2019 it is no longer possible to get the name of the user, only a useless pseudonym hash. This has been introduced to protect your privacy but this enforces this limitation.
Work faster and improve efficency!
Start today with a 30 days free trial!